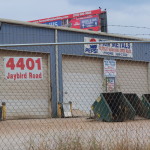 Recyclers, scrap yards, enablers for thieves!  I mean come on!  If PKM or any scrap yard  gave a crap wouldn't they refuse stuff.  Maybe PKM does?  But the Police and the government need to close these places down.  These places have a really bad ethics problem.  I think scrap yards really should just drive around and put out hits or pick up stuff themselves.  They are as guilty as the people stealing the stuff in the first place.
The only reason I single out PKM is I got my METAL pits stolen and I asked some shady guy which might have stole them?  Who knows?  🙂  He said everyone brings there stolen stuff to PKM…. so don't put words in my mouth!  It's the "word on the street".  Also if the guy hasn't been thrown in jail yet I will point him out for you!  Actually I wouldn't rat anyone out in Wylam…. I'm not stupid!
BTW a detective from the Birmingham Police Department told me the other day THEY SELL DOPE across the street (from my car wash)…… REALLY!  Thanks detective I'M BLIND!  I didn't ask but if this is such common knowledge….. never-mind.