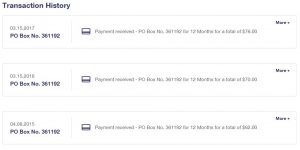 This might explain why the traffic has reduced at the PO Box! LOL 🙂
So my PO Box started out at $62 a year…. Then $70 a year…. Then $76 a year…. Now it is $84 a year? So from 2015 – 2018 it has gone up $22? (This was just when I switched to the USPS website.)  This is an Alabama USPS PO Box yearly price.
My serious question is…. Why do so many USPS carriers drive through our hood now?  So they can burn more gas (for the environment)? I might support it then. 🙂 To many packages in March? I honestly do not understand? Today a USPS van delivered a 14″x4″x6″ package (estimated size)…. An hour later our random mail carrier came?  Sometimes someone will deliver mail or packages randomly in the morning then 6-8 hours later someone will deliver more mail?  Seems silly?  Sunday seems silly also…. But I do not judge.
I know someone that delivers for UPS and if his route has to much mail…. They just stuff the truck with more mail. In busy months like March…. JK December they do hire a helper but USPS I believe did not? USPS did delivered mail super late at night in December though…. I also did not feel sorry for the USPS drivers…. They get overtime and probably double their salary around December? I would deliver in my hood if I could never get fired…. I would like to add no transferring either. That is how they try and get rid of losers…. Not saying I would be a loser…. Or am I? LOL 🙂