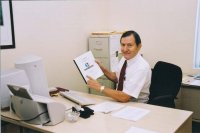 So I had to email back my bff Dr. Edward Rowe.  Below is my email.
Eric
271 Forest Road, Hueytown, AL 35023

Ready to help you invest your money el friendo! Oh by the way I have a Rowe Changer so I am qualified to help!
Your Best Friend Ever!
Love
Eric
I mean what is Dr. Edward Rowe going to do send me more junk checks junk mail then AT&T?
This was his response I don't think that they read my email?  What do you think?  RESPONSE HERE