We rented a Penske 24 foot truck, blue dual axel trailer, and fork lift today to move the Water Wizard.
William just put the gantry on the trailer and strapped it down with 4 2″ tie downs, which we purchased from Lowes.
The pumping station went into the back of the truck along with the rails, entry gate, etc.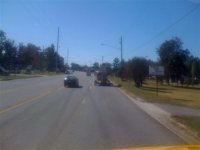 It was a long and bumpy road and my back is going to hurt tomorrow.  "Air Ride"… I say back breaker.
William moved the gantry off the trailer without any problem!
Thanks again William and my Dad for your help today.