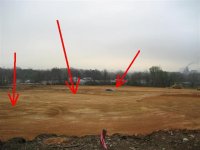 Look crop circles in Birmingham, Alabama
I made it on a post at Crop Circle Connector or cropcircleconnector.com (to check out the post click HERE)!  This was my goal…. I wanted to get in with the ufo earthfiles.com people.  I really don't even own car washes.  Well, I hope that I can help out "windsong the researcher" with another picture in the future.  For more information on ufos check out my other pictures:
First picture, of course, is the drone / flying fish picture (someone also emailed me to say it "might be a bird".  The second picture really is a ufo.  Seriously.