I wanted to check out a couple things at the ICA show and self serve tire shine units was one of them. I talked to Joe DeNardis at the crowncarwashinc.com booth and really liked their self serve vendor. They also sell a full service applicator (middle picture). I really like this design because all my vacuums are the same design. The gun has a trigger on it and a stationary bristle brush.  It also holds 5 gallons of product.
But the bigest selling point is the BioShine tire shine product. I request a sample and will test it out on a car tomorrow, so I will let you know how it works. But the product is silicon free which is a must for self serve bays, (more on that later) and is environmentally safe product. Maybe that is why the vendor is green?
The Blendco Black Diamond vendor is like a stand alone Fragramatic fragrance machine. But they also sell a self serve bay setup. I liked the bay setup but they use a crappy Flojet pump (at least for a 5 bay unit I asked about) and is seems a little expensive (Maybe that is why the show special was half price?) for what you get. The gun looks exactly like a Fragramatic fragrance gun with a swivel on the end and a metal brace for a pad. The idea is to spray the tire down then scrub it in with the rotating pad thing. I did not really care for the gun setup and it just seems like the pad would not last very long (If I remember correctly, if you purchase their product they will send you free pads?). But the worse part was something I never even thought about. The silicon based Blendco tire shine will make your bays super slippery. If you have ever gone to a wash with a Simonize Tire Shiner (I guess any tire shiner?) you will know what I am talking about. Around the tire shiner and maybe 10 feet away will be an ice rink. But to be fair the Bendco sales people said that you just need to high pressure it off ever day. Not really sure how effective that would be?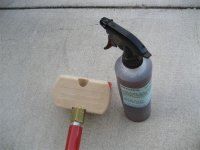 But I did get my sample of BioShine that I requested from the ICA show so I will give it a try tomorrow and give you an update. It will be interesting how a non-silicon based product works.