I cross threaded my elbow pvc piece today, then I had to go to Home Depot again to purchase a metal elbow.  I needed to add an elbow to allow the weep solenoid to stop all the water.
I can not figure out why this solenoid does not work.  It looks like the spring is messed up.  But why is there another spring in the solenoid base (last picture).  I just replaced the solenoid with a new spare one.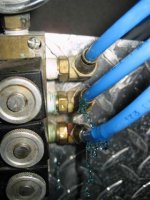 Also when I was trying to repair the weep solenoid I messed up these crappy brass fittings.  I love when fixing one problem causes other problems.