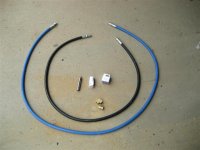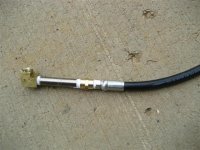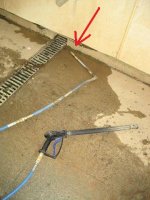 (For this original picture I had a Mosmatic 90 degree swivels…. I did not post my results yet.  But from my unscientific research conclusion.  I believe Mosmatic fittings are the nicest looking fittings, the most expensive fittings and do not last as long or as well as any of my other fittings I have used previously.  I would recommend Parker, Value Line, Kleen-Rite brand…. I believe you understand my unscientific conclusion here.  🙂  But the Mosmatic fitting did last around 9 years and they can be rebuilt…. Just like all the others which I would not rebuild.  Mosmatic fittings just cost a lot more and they do not last 15-30 years.  LOL 🙂  I do like shiny things though!  I also purchased a Mosmatic 40.032 $33.07.)
If you noticed from the picture…. I also used a Mosmatic 3/8 30.154 inline swivel fpt $34.67.  I used it between the whip hose and the bay hose.  I believe an inline swivel works better on the gun.  I also tried 2 swivel…. Up top and on the gun…. I just use one at the gun.  Also the performance from this Mosmatic swivel must not have been that exciting I do not remember?  Maybe it is brass looking now and it is still installed?  🙂
Basic information:
All fittings are 3/8 for high pressure in the bay
NPT: National pipe thread taper / US standard or Normal pipe thread!  🙂
MPT: Male pipe thread
FPT: Female pipe thread
I have in the past couple years tried to purchase my fittings from amazon.com.  Most of the time you can find them HERE or by searching.  But sometimes the cost is a little high LINK ($8.99 on 4/17/2018).  But if you consider what you need…. Shipping from KR is not free and I have found I can waist an hour or more getting one ebow sometimes.  (Different stores.)  But Home Depot now pulls stock for you but the prices are retail…. But you can get them the same day.
I have noticed amazon.com and Northern Tools have more high pressure guns now and more supplies now…. But I have never purchased any of them.  These might be good sources if you need a gun fast?  I have also found some random high pressure stuff at Home Depot.
You need to use plumbers tape on everything
Parts:
Plumbers tape $1.87 LINK
Parker S2107E-6-6NI 90° Boom Swivel 3/8″ M x F  LINK
Black 3/8 6 foot hp hose for the inside of the 360 degree boom (KR)
Brass Fittings Pipe Coupling 3/8 $1.39 LINK

Stainless steel class 1000 version $3.79 LINK

4 inch piece of stainless steel piping sch 80 316/316L NPT male (to prevent the boom from rubbing a hole in the hp hose) $3.94 LINK
Brass elbow 90 degree fitting 3/8 fpt LINK $3.35
Whip hose:  3/8 1 foot hp hose
I started installing quick disconnects next.  (Helps in the winter when or if you shut down the wash.)

3/8-Inch Stainless Steel Quick Connect Pressure Washer Adapter Set $12.99 LINK

Blue 3/8 8 foot hp hose to the gun (KR)
Fluid Controls 3/8 FxM Brass Swivel 3500PSI $18.99 LINK
Giant Guns w/SS Discharge Fitting Weep $24.95 LINK
Wand Pipes Threaded & Tapped 1/4" x 18" Stainless WTS418 $9.44 LINK
18″ D&H Insulated Lance WTL22003 $15.50 LINK
Snap Clip for WTL22003 WTL22004 $4.35 LINK (Not required)
Gun Guard – Black, Rubber GUG22046 $3.50 LINK (I was told I should use these…. I never did.  They look annoying to me.  :))
Suttner Nozzle Protectors 1/4 F x 1/4 F SUTNP4F4F $4.99 LINK (I love these but the zinc fitting will rust…. It should be stainless.  But your crappy setup rust also.  LOL 🙂 )
Spraying Systems 1/4 in. Male NPT WashJet Spray Tip, 2507 SN2507M4 $3.45 LINK
This was a variation on what was installed when I purchased the wash.  I believe the Suttner nozzle protector makes the gun setup look a lot more professional.   At a different wash I used a Spring flex wand…. Which I liked because the customers were more violent with equipment.  🙂  I did replace the nozzle with the Sutter…. Small rotating nozzles are super annoying.  You can also purchase a cheaper gun setup…. I have used cheaper gun setups.  My Dad had purchased and used some of the worse equipment I have seen…. It is not what you should do.  LOL 🙂
Also the GinSan Blue Nozzle Protector Fits 1/4 is the type of nozzle I hate LINK especially anything smaller.  They rotate in your hand.  The Sutter nozzle is not perfect because it is not stainless and will rust onto the stainless wand pipe.  Then you have to use a pipe wrench.  Also replacement parts would be nice because the outside black piece could be replaced more frequently…. Maybe if it was cheaper?
Also a note that all the fittings are 1/4″.  Usually I have found in all the used equipment I have seen operators use 1/8″.  I believe larger is easier to work with, makes larger parts, more throughput and probably better.
Spring Flex Wand with 1/8 Nozzle Protector $16.99 LINK
Stainless steel pressure chart I went by: LINK (Let me know if I was incorrect. Preciously I purchased from a catalog but could not find the email.)
An aside for Kleen-Rite: You should use a link shortener for emailing links. Your links are interesting and very long.  Also before anyone says anything…. I used part numbers from a 2005 catalog and they are still the same.  Just a hint and just saying.