These are some pictures pulling up to the Albertville wash.
The Autec Shine Express is around where the vacuums are and these are some pictures of Scott spraying my car.  The buffering from the Shine Express did a unbelievable job it looked and felt like it was hand waxed.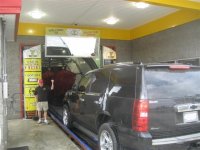 Here is a picture of a car entering the tunnel.  Note the mirror.