Maybe not full strength but just the product along with 5 gallons of water.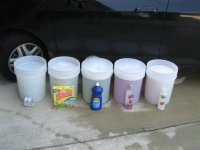 Number 1:  Dial Basics HypoAllergenic (bar soap, 3 bars)   Very nice foam the only problem is you need a knife and some amount of time for it is disolve.
Number 2:  Classic Sun Clean & Fresh  Really a stupid product to try but at least it was $1.
Number 3:  Dis™h Detergent Original Scent Really way to foamy.
Number 4: Perfect 10 Black Currant Bodywash  Really to foamy.
Number 5:  White Rain Conditioner Energizing Citrus  Probably purchasing conditioner was not the best idea?  I guess maybe shampoo?