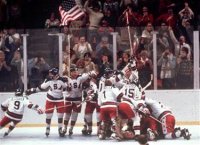 The U.S. hockey team pounces on goalie Jim Craig after defeating the Soviet Union 4-3 in the 1980 Winter Olympics in Lake Placid, N.Y., on Feb. 22, 1980.
Wait a minute I have a different story.  It starts with My tug-a-war friends.
I decided to mail them a bill for the repairs.  Letter below:
This is a bill for damages at my car wash caused by two people driving one of your trucks.  Also enclosed are 4 pictures that show your company™s truck and the two men that caused the damage and theft.  They destroyed my car wash equipment and then the items were stolen.  This also cost me bay revenue for an entire 24 hour period.  I have enclosed a price list for $40.42 worth of supplies that were broken and stolen.  Please send a money order of $40.42 to the address above or I will need to contact the Police.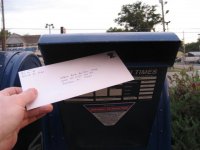 I mailed the 4 pictures above, the letter and a KR price quote on October 9.  Then look what I got!
The last picture is a higher resolution so you can read the nice letter from Brenda.  Thanks, Brenda