I replaced my Sandpiper pump with a Flojet today.  The Sandpiper pump still worked fine but foamed a little.
I used the Flojet kit 20381-057 1/4″ OD tube connector for the outgoing chemical.  (UPDATE: I shortly after this changed to all 1/2″ Flojet fittings.  Then changed the outgoing to 3/8″ Flojet fitting.)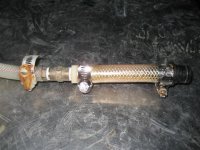 MacGyver award winning fix.  The fix was 3/8″ barb to 1/4″ barb.  After bitching about crafting this conversion I noticed all the other Flojets are setup the same.  I think I am going to purchase some poly tube fittings 1/2″ for my Flojet setups.
These are the Flojet mounting brackets 20982100A that I purchased.  They look cool and give any install a more professional look.  I believe that my setup needs all the help it can get.