My easy out was rusted together or something. I needed the small bit, so I had to use pliers to turn it. Now I know this weep system fix is flawed. Can you point out all the problems? Actually, this is not a test; you can post the answers for me.
When the solenoid is installed vertically it leaks. Randy, I believe told me, that this is a bad idea, now I know why. The last picture, is how much it leaks out of the first bay, high pressure gun.
This hose was the only hose Home Depot sold. Could this cause a problem? I believe that this hose has a 55psi rating?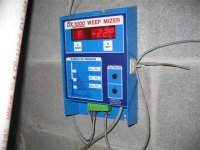 Now the Weep Mizer question, this is a picture before I started messing with it. The "outputs 1" light was not lit. Is this a problem? I believe that this is a problem, so I started messing with the settings.
I turned the output 1 "on" this seemed to make the solenoid turn on, when I changed to the target temperature. It also turned the "output 1" light on. When I was trying to fix this thing, a wire came out and when I was jamming it back in. A fire ball tried to blind me. Not only did I have a white light in my eye for a minute. My glasses have a black mark on them and no, it will not come off. I guess my glasses saved my eye sight again.