Greg purchased the Hoover SpinSweep Pro. It is nice and easy to dump the garbage out, but it was really hard to test the unit out. The lot at the tunnel was not that dirty. He purchased it to clean up at his self serve and he was going to report back if it works well. The unit seems to work better if you are running.
http://www.amazon.com/Hoover-L1405-SpinSweep-Outdoor-Sweeper/dp/B0007OER2G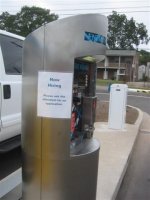 Also, they are hiring at the tunnel.