Greg's plan was to bend a pvc pipe to make it possible to clean out between the first clean out tee to the second clean out. Where the clog is believed to be.
William and Greg had to grind the metal that was blocking the first clean out. I believe that is Greg's new Hitachi grinder. William is using his Black and Decker grinder. I wish I had my Chicago grinder with me also.
William and Greg think they removed the clog. They will have to see after this weekend.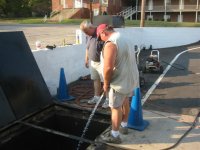 This is Garry and Greg doing something? They were filling up the pipe to test and see if it was draining correctly. It seemed to work fine.