Someone broke into my meter box again. This time they stole my latch thing that locks it into place, bent and striped the threads on the lock. Luckily, I had a spare lock.
He tried to break in to all the vaults and looked at the vacuums. It was at 9:27 pm I think unless the time is wrong on the dvr I forgot to check.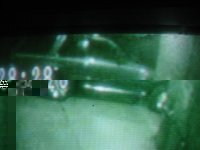 Here is a picture of his suv.
The meter box worked fine all day except for the guy on the left. Then the lady on the right decided to steal the quarter for some reason.