I really liked this product.  This could replace your neon and stand up to vandalism better.  I lost their show specials but their website says $500 for 100 foot roll.  SunLitz LEDs  by Rain Tunnel not really sure about their name.  SunLiz?  What is that suppose to be Sunled?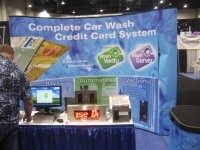 I really liked this product!  But he did not have any brochures and business cards so I wrote in on one of my cards and I lost it.  But you can set up the credit card processing through anyone unlike Etowah Valley's system and you can also get a Hamilton credit card reader for it I think it costs around $2800?  The system is for 6 ports and it costs around $6000?  All it uses is 1 cat5 run to connect and high speed internet and you can repair the credit card reader!
Now I am going to have to try some Microcoin coin acceptors.  These seem great!  But if you look above the coin acceptor there is a little black box.  That is part of the coin acceptor…… that is CRAPPY!  But everything else sounds great.  No tool opening to clear jams and seems easy to program.  Will not jam with really crappy coins, it has a 2 year warranty, and it can be repaired reasonably unlike IDX  X-10 (the guy said $60-$80).  Plus you can program tons of coins and it is not that bad of a price (retails for $219.95).