I actually had 2 of these I got used some how which I sold?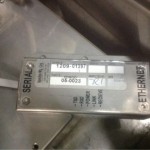 UPDATE: 20150611 The old model number: Hamilton Changer Part 13-1164 – Serial To Ethernet Converter.
As of Hamilton's 20150309 this part retails for $403. Should be $30-50? I sold one for $90 and the other for $78 around 201201 and was lucky. But I do not think anyone purchased a Dan system back then? Now the system cost 1/3 the price.