International Carwash Association Trade Show 2010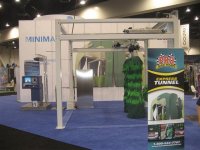 From the makers of the Navigator (Pro Car Wash Equipment) they bring to you an interesting concept.  An express tunnel that will fit in a self serve bay!  Just add a conveyor and a pit.
Did you know that Sonny's sells a friction and a touch free automatic?  Sonny's I think is going to hire everyone in the industry and also put everyone else out of business.  If you watched the show floor the Sonny's booth was where all the action was.  Even places like Kleen-Rite need to watch out!  Speaking of Kleen-Rite do you notice the thing on the right the touch free automatic?  Yes it is a Cobra that purple thing that Kleen-Rite use to sell.