What happens when you don't secure your air compressor while driving?  Your window gets all crackly looking!  Probably not good!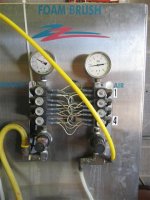 Today I counted how many broken pressure gauges I had out of 10.  Want to guess?  Looks like I need 5!  Nice!  How many do you have broken?
Not really a surprise but ice makers are made of all plastic parts.  When the ice flipper outer gear (technical name) breaks you have to replace the flipper (first picture) and the whole gear assembly (second picture).
Kenmore refrigerator