Do Ninjas go to car washes?
I found this Ninja sword today at Wylam.  I guess I could use this Ninja sword to scare away would be safety cone thief's?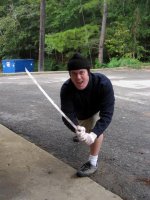 This is me dressed up as a Ninja (Yes Ninja's can wear shorts).  Check out my stealth outfit and super duper mad skillz.