WHAT? A website with Jim Coleman Vacuum model numbers? (Only one?) NO WAY! LOL :)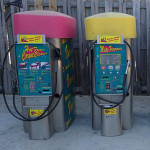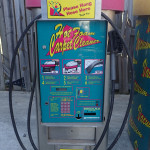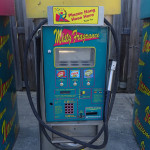 I was trying to figure out some Jim Coleman vacuum model numbers the other day and I was checking out Coleman's web site.  Well I could not find a list.  I believe the Coleman numbers are random?  What on earth is the last number for?
Only the "R" makes any sense.
| Model Number | Coleman's Web Site |
| --- | --- |
| 92000 | Economical Vacuum (I could not find information) |
| 93000 | Oval Vacuum – Super Vacuum (Vac only) |
| 93050 | Oval Vacuum – Scrub-N-Vac Vacuum (Shampoo & Vac) |
| 93040 | Oval Vacuum – Fresh-N-Vac Vacuum (Fragrance & Vac) |
| 94000 | Round Vacuum – Vacuum (Vac only) |
| 94040 | Round Vacuum – Combo Vacuum with Fragrance (Fragrance & Vac) |
| 94050 | Round Vacuum – Combo Vacuum with Shampoo (Shampoo & Vac) |
| 13100 | Air & Water Machine – Looks like a vacuum without the vacuum |
| 94060 | Round Vacuum – Air & Vacuum Machine |
| 28010 | Hot Foam Carpet Shampooer – Looks like a vacuum without the vacuum |
| 46010 | Round Vacuum – Misty Fragrance Machine |
| | Model Numbers I Have (Or at least unique models I had pictures of) |
| 93044 | Oval Vacuum – Fresh-N-Vac Vacuum ONLY Ugly Teal |
| 93052 | Oval Vacuum – Scrub-N-Vac Vacuum (Shampoo & Vac) Ugly Teal Bill Acceptor and Swipe & Clean |
| 93054 | Oval Vacuum – Scrub-N-Vac Vacuum ONLY Ugly Teal |
| 94042 | Round Vacuum – Combo Vacuum with Fragrance ONLY Crusty Black Lambo Sticker |
| 94050 | Round Vacuum – Combo Vacuum with Shampoo |
| 94052 | Round Vacuum – Combo Vacuum with Shampoo ONLY Crusty Black Lambo Sticker |
| 94052R | Refurbished Round Vacuum – Combo Vacuum with Shampoo ONLY Crusty Black Lambo Sticker |
| | |
| | By "ugly teal"  I am referring to that hideous teal sticker that Coleman has which I hope they discontinued in the 1980s.  Hard to know because it is all over their website still. |
| | By "Crusty Black Lambo Sticker"  I am referring to that super dated black sticker with the random red Lamborghini on it which I hope Coleman has discontinued also.  I can only assume it came out in the 1980s also? |
| | The stickers are probably irrelevant when talking about model numbers. |
| | Best quote:  "Provide all the benefits of the 94040 and the 94050 models but without the vacuum."  Yeah thanks…. I noticed the vacuum was missing.  LOL 🙂 |