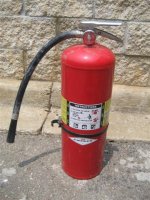 I found a fire extinguisher today.  Yes that is all that happened today.
My foam brush hose is push lock hose and still is having a problem.  I guess I need a clamp or replace the hose.
What a crappy install.  I think I need to add some more concrete.